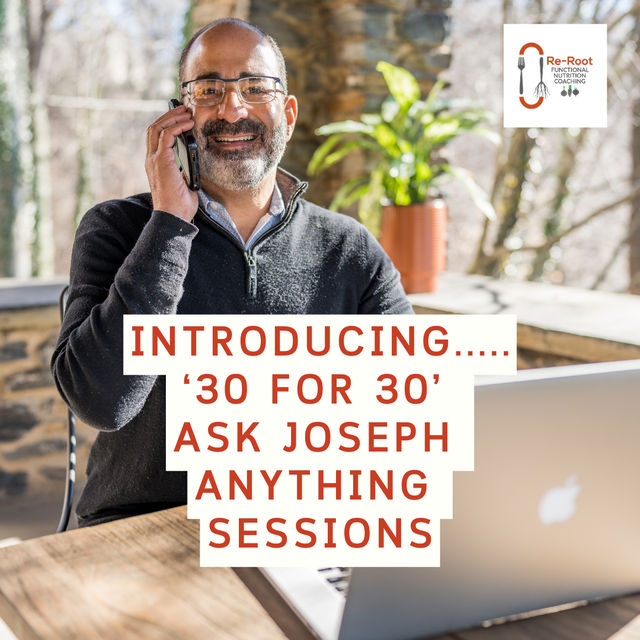 ---
Ever Felt Lost in the Vast Sea of Health Advice out There?
Let's navigate it together.
Introducing our '30-minutes for $30′ AJA session with Joseph Bershad at Re-Root Functional Nutrition Coaching.
What's On The Menu:
→ Nutrition insights
→ Strategies for Sleep Improvement
→ Tools for Stress Reduction
→ Importance of Hydration
→ Benefits of Functional Exercise
Ask Me Pondering Questions Like:
→ "How can nutrition choices enhance my daily energy?"
→ "What hydration habits best support my overall health?"
→ "How can I optimize sleep for better productivity?"
→ "What are simple strategies to manage my daily stress?"
→ "Why are functional exercises a game-changer?"
Or whatever is on your mind around health and wellness. I'm all ears.
I'm here to provide you with actionable insights, emphasizing the tangible benefits of functional nutrition coaching
By the end of our session, you'll walk away with a clearer roadmap to a more vibrant, energetic life, equipped with practical strategies to implement immediately.
A heads-up: Our chat will focus on broad principles, not individual health specifics.
Interested in getting your own health concerns under control? Consider a 1:1 consultation with Joseph at Re-Root. We'll explore getting to the root of your issues together and help you get your life back on track.
Click the links below to schedule your sessions today
30 for 30: https://l.bttr.to/8XIlQ
Individual sessions: https://p.bttr.to/3kiqI71
Here's to your improved health!
---